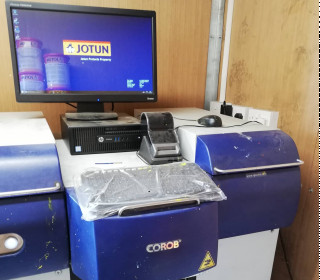 Specialising in Protective Coatings
Galvanize is a protective coating not an aesthetic coating. It offers decades of protection to your gates.
Paint offers an aesthetic finish to gates and railings.
At our paint facility we can over coat galvanize with a 2-coat paint system.
The first is an epoxy zinc phosphate primer coat.
The second is specialised polyurethane coating.
These coatings can be applied within hours of the steel being galvanized or years.
In our paint facility we can mix hundreds of colours, all RAL & BS4800 colours, as well as specific colours such as John Deere Green or Massey Fergusson Red.
If you decide that you don't like the look of your existing galvanized materials just bring them into our facility here in Drombanna, Co. Limerick and we will paint them for you, alternatively if you have painted them yourself with some " well advertised" brands and now the paint is flaking off we can blast off the paint for you without blasting off the galvanize, primer coat them and finish paint them to your required colour.